Welcome to the National Drug & Alcohol Screening Association (NDASA)!
NDASA is the voice of the nation's drug and alcohol screening industry. Our diverse membership includes testing companies, employers, laboratories, Third Party Administrators, human resources managers, safety professionals, substance abuse counselors and others. We stand together to maintain drug-free workplaces and protect public safety.
To promote our industry's interests, NDASA provides best-practices professional training and certification, hosts national and regional educational conferences, offers informational resources, leads governmental advocacy efforts on federal and state levels, and works closely with regulators who impact our industry, including the U.S. Department of Transportation.
As a 501C organization, NDASA is committed to serving our members in a professional and transparent manner and while we are governed by an elected Board of Directors, we are proud that our association is member driven and member owned.
The Why
NDASA was founded in 2018 as a public safety response to a growing need for training, advocacy and best-practice standards for the drug and alcohol testing industry. The data tells the story:
Employee substance use costs U.S. employers more than $164 billion annually and small-business owners face upwards of $7,000 per month in lost revenue due to employee turnover, absenteeism, lack of productivity, accidents, injuries, and even workplace fatalities.
According to the U.S. Department of Justice 50 percent of workplace accidents and up to 40 percent of employee theft is caused by drug abuse.
Nearly 70 percent of the estimated 22.4 million illicit drug users, ages 18 or older, are employed full or part time.
Some 41.2 million binge drinkers are in the workplace.
The rate of workforce drug positivity hit a 16-year high in 2019, according to Quest Diagnostics.
Ongoing changes in drug legislation are making the development and enforcement of workplace drug policies, increasingly difficult. As of 2020, 33 states have legalized marijuana for medical use and 10 states and the District of Columbia for recreational use. Some states, including Oregon, are moving toward decriminalization of a host of other illicit substances.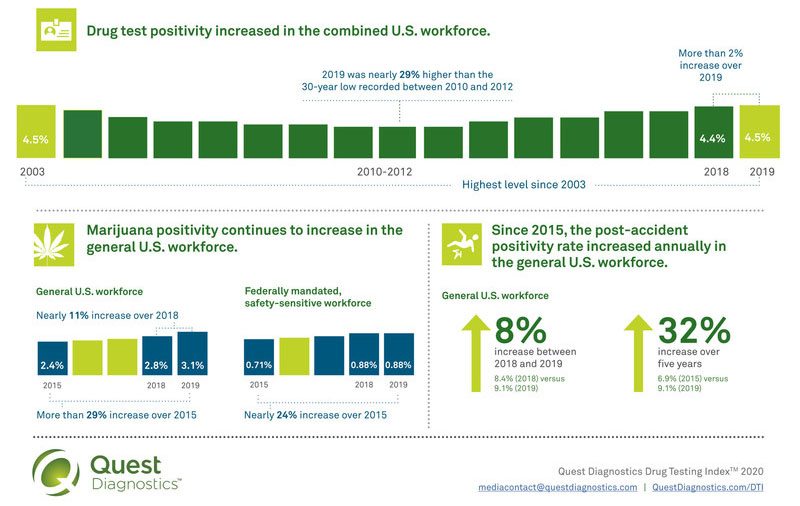 The How
Studies show that effective workplace drug testing programs are successful in advancing safety and they serve as a deterrent to on-the-job drug use.
Employers with successful drug-free workplace programs, report improvements in morale and productivity and decreases in absenteeism, accidents, downtime, turnover, and theft.
Employers with long-standing programs, say their workforce is in better health and they experience reduced healthcare costs.
The What
From safe workplaces, consortium management, policy development, technology advancement, scientific research, medical oversight, business leadership, and law enforcement, all the way to drug and alcohol prevention, treatment, and recovery, NDASA seeks to support employers in maintaining the highest level of safety standards and develop effective workplace drug policies.
The Whom
NDASA has assembled leaders representing a wealth of knowledge and experience, forming a highly collaborative body of experts that can thoughtfully and effectively support the mission and vision. Our members include:
Drug & Alcohol Testing Companies
Drug Testing Collectors
Alcohol Testing Technicians
Medical Review Officers
Laboratories
Designated Employer Representatives
Third-Party Administrators
Child and Family Services
Human Resource Managers
Safety Managers
Alcohol Test Device Manufacturers
Substance Abuse Professionals
Mobile Collectors
Drug Test Device Manufacturers
Probation/Parole Officers
Sober-Living Home Operators
Drug and Alcohol Policy Consultants
Nearly 1,800 members, representing 450 organizations and businesses. And, we are always growing! Our members come from all over the world and are based in the United States, Australia, Canada, New Zealand, Portugal and Saudi Arabia. Well over 3,500 professionals in the drug and alcohol screening industry have joined us at our annual conference, participated in a webinar or have registered for an NDASA training.